Triple Bloko
Description
Triple-eliminate a solid shape by completing 3 touching loose shapes at the same time
Game
Deko Bloko
Members?
No
Seasonal?
No
Hidden?
No
Secret?
No
Orb Points
1000
Orb Coins
10

To get this achievement, make something similar to the picture below. Note that the wild cards can be replaced with the colors touching it.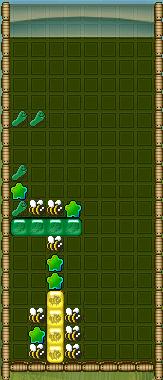 There is also another way. Make the Picture below, and drop the two yellow shapes. This is harder for some people, but others may find it easier.
Ad blocker interference detected!
Wikia is a free-to-use site that makes money from advertising. We have a modified experience for viewers using ad blockers

Wikia is not accessible if you've made further modifications. Remove the custom ad blocker rule(s) and the page will load as expected.