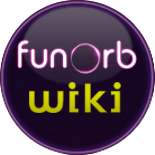 FunOrb Wiki was started on February 28, 2008 based on the site FunOrb, and all of it's games. There are currently 1,927 articles on FunOrb Wiki.
About FunOrb
Edit
FunOrb is a game website created by Jagex, the makers of RuneScape. It contains a number of Java-based games, some of which are multiplayer, and will be updated on a regular basis. This wiki is here to collect all information regarding the games, including strategies, hints, and any other relevant information.
FunOrb Wiki was started on February 28, 2008 by Vimescarrot, who no longer edits the Wiki. This site's goal is to get as much information as possible on all games, achievements, and Orb Downloads.
FunOrb Wiki can be and aims to be a potential competitor against all major FunOrb fansites. Guides to new games can be written in a matter of hours, and information on hidden and secret achievements is added almost as soon as it is discovered, far ahead of any other FunOrb fansites. This is because anyone can edit FunOrb Wiki, and the more people who edit, the faster content is created.
Due to the the fact that anyone can edit FunOrb Wiki, it is a target of vandalism, but FunOrb Wiki is moderated by several trusted administrators, who have the ability to block malicious users from editing the site.
Ad blocker interference detected!
Wikia is a free-to-use site that makes money from advertising. We have a modified experience for viewers using ad blockers

Wikia is not accessible if you've made further modifications. Remove the custom ad blocker rule(s) and the page will load as expected.