Succession Geometry
Description
Achieve an 8 times bonus multiplier
Game
Geoblox
Members?
No
Seasonal?
No
Hidden?
No
Secret?
No
Orb Points
500
Orb Coins
5

This achievement is best gotten on first level. Make 8+ stacks of geoblox pairs around the avatar. Destroy 8 in succession.
The other way to get this achievement is (after space stage) making a tower with bubbles. While you have about 5 bubbles put any geoblox (excluding stars and orbs) on it without moving the avatar. With this, you can easily get about 10x bonus.
It is helpful to use the "fog cheat" while building your chain; it makes geoblox easier to see.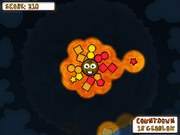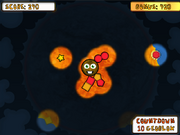 Ad blocker interference detected!
Wikia is a free-to-use site that makes money from advertising. We have a modified experience for viewers using ad blockers

Wikia is not accessible if you've made further modifications. Remove the custom ad blocker rule(s) and the page will load as expected.