Vertigo
Genre
Action
Release
November 20, 2008
Multi-player
Yes

Vertigo 2 is a platform game which features both single and multiplayer and was released on November 20, 2008.
Gameplay
The aim of the game is to paint all of the blue tiles purple by jumping up and down to reach each "layer" of tiles. Each level consists of a variety of obstacles to make the game more challenging as well as moving platforms, teleporters and other collectables that may be useful.
Game Types
| Game Type | Description |
| --- | --- |
| Standard Game | Play from the starting tutorials at level 1 all the way up to level 50. This mode is only available in single player mode. |
| Time Attack | Race against the clock to paint all the tiles on the map as fast as possible and earn medals - either gold, silver or bronze. This mode is only available in single player mode. |
| Co-op | 2 Players can work together to paint all the blocks on the map purple. If either player is killed, both players have to start again. This mode is only available in multiplayer unrated games. |
| Paint Off | 2 players compete off to paint as much as the map as possible in their own colour - either purple or blue. In this mode, you can only pick your own colour of paint and any paint you pick up is immediately replaced. Also note that you cannot paint the blocks that the paint pots are on. When the time limit is reached, the player with the most blocks of their colour is victorious. This mode is only available in multiplayer games. |
Levels
We need these sub-pages to be done. Any information or strategies that would help will be much appreciated. Please give any info you can on this talk page or add it to the sub pages.
Block Types
| Image | Name | Description |
| --- | --- | --- |
| | Block | Paint all these purple to complete the level. |
| | Fan | You can jump higher while on a fan. |
| | Portal | Green portals will transport you to red portals. |
| | Glue | You can't jump while on a gluey tile. |
| | Barrier | You can't pass these blocks and if you land on one you'll slide off. |
| | Trap | Danger: this block will kill you! |
| | Bomb | Moving onto this block will cause it to blow up, destroying nearby blocks. (3 by 3 area) |
| | Cracked | This block crumbles when you move off of it and must be destroyed to complete the level. |
| | Puller | This block pulls you towards it. |
| | Pusher | This block pushes you away from it. |
| | Metal | You can't paint this block.(Note: Usually has the special items and has paint pots in multiplayer.) |
| | Phased | These blocks phase in and out of existence. You fall through them when they're transparent. |
Collectables
| Image | Name | Description |
| --- | --- | --- |
| | Paint Pot | Contains enough paint for five tiles; comes in blue or purple. |
| | Coin | This is worth 100 points, the equivalent to painting 10 blocks. |
| | Dynamite | Lets you destroy blocks around you; use it to save paint. Press F1 or CTRL to use it. |
| | 1-Up (found on levels 8, 14, 19, 21, 31, 42, 50) | Pick this up to gain an extra life! |
| | Jetpack | Lets you jump higher than normal. Each jetpack has enough fuel for one use. You can use it by completing two spacebar presses really fast. |
| | Save Star | Saves the level so that, if you die, you'll start from where you touched it, with all the tiles and paint the same as they were when it was touched. This can be unhelpful, however, when you have messed up the level before you collected the star. |
| | Compass | Shows the entire level to aid navigation. By jumping, the view will disable. In multiplayer Co-op (see above), both players will see the level, and if one player jumps, it will disable for both players. |
Achievements
Total Achievements: 13
Total Orb Coins: 41
Total Orb Points: 4100
[Secret Achievements] | [Hidden Achievements] [Halloween Achievements]
All information for these achievements is stored on their respective pages, along with walkthroughs and tips for many of them. So, if you notice a mistake, or have a good strategy, go there!Did you notice a missing achievement? You can help the FunOrb Wiki by making a page for it. Simply type the achievement name in this box to make a page for it.
Trivia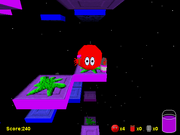 Vertigo 2 is the remake of the Jagex classic Vertigo. You used to be able to play the classic Vertigo on Jagex's website here., but it has been taken down.
Since Transmogrify was released, this is the first game that is fully available to free players, aside from fullscreen mode.
This is also the first game in FunOrb to have a Co - op mode accessible from the multiplayer lobby.
In Achievements Online, "Paintology" achievement is called "Prince of the Tutorial" and "One Final Thing" is called "One final thing I have to do...". Also "Where No Painter Has Gone Before", "This is Hardly Logical", "All Play and No Work" have added "..." and uncapitalised some letters. This has been reverted.
The achievement "Steep Purple" is a reference to the band Deep Purple.
This is one of the few games fully accessible to free players on its release.
Ad blocker interference detected!
Wikia is a free-to-use site that makes money from advertising. We have a modified experience for viewers using ad blockers

Wikia is not accessible if you've made further modifications. Remove the custom ad blocker rule(s) and the page will load as expected.